Christopher B. Weldon, Esq. | James C. Keidel, Esq. | W. Vincent Sorgi Jr., CIC, AAI, AIS | Stuart Powell Jr. MA, CPCU, CIC, CLU, ChFC, ARM, AMIM, AAI, ARe, CRIS | William Perkins, AAI, ARM, CRIS | Richard Lund, J.D. – E&O Risk Management – Meeting the Challenge of Change-1 (6 hrs) Event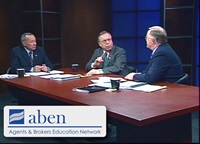 Salepage : Christopher B. Weldon, Esq. | James C. Keidel, Esq. | W. Vincent Sorgi Jr., CIC, AAI, AIS | Stuart Powell Jr. MA, CPCU, CIC, CLU, ChFC, ARM, AMIM, AAI, ARe, CRIS | William Perkins, AAI, ARM, CRIS | Richard Lund, J.D. – E&O Risk Management – Meeting the Challenge of Change-1 (6 hrs) Event
Courses Content :
This course is the complete E&O module   –  As of January 1, 2020 3 hours of content must be taken to qualify for the 10% E&O premium discount!
You'll be armed with great information so please consider this class – the greatest selling class of all time!
Single event 6-hour ABEN Webcast:
This course, which will apply toward the agency's requirement for the Swiss Re and Fireman's Fund 10% E&O discount,  is designed to give agents important information to help reduce their exposure to E&O claims.  Topics that will be discussed include:
Agency/Carrier Relationships – Law of Agency

Understanding Agent Duties

    An E&O Claim – 360° View

Agency/Carrier Contracts – E&O Considerations

    Agency Defenses Documentation

    E&O Considerations of Agency Operations
 * Subject to state filings
Important – Please Read:
 To claim the Swiss Re and Firemen's Fund 10% discount send a copy of your Completion Certificate to your state independent insurance agents and brokers association.  Please see the document on the materials tab marked "Swiss Re and Fireman's Fund 10% Discount" for your state contact.
Also, please see the State Approval Information section to learn if your state has added additional comments/requirements!