Theresa A. Schmidt – 2-Day Myofascial Release Intensive Training: Soft Tissue Mobilization for Rapid Functional Outcomes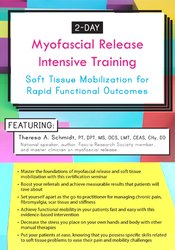 Salepage : Theresa A. Schmidt – 2-Day Myofascial Release Intensive Training: Soft Tissue Mobilization for Rapid Functional Outcomes
Courses Content :
Theresa A. Schmidt is a member of the faculty.
13 hours and 5 minutes.
Audio and video formats are available.
Date of publication: May 16, 2019
Description

Do you ever feel like you're chasing pain with your patients without getting anywhere? Exercise and medicine have limited impact on chronic pain, and a busy schedule of patients requiring manual therapy might leave you weary and undermine your treatment.

Myofascial release can help you achieve a breakthrough in your profession by delivering permanent improvement to your patients. Even if you already utilize some of the techniques or are familiar with the theory, this intense training sharpens your abilities and improves the efficiency and effectiveness of your job.

After watching this training video with a master clinician in myofascial release and soft-tissue mobilization, you'll notice a significant gain in functional mobility in your patients while sparing your hands for the next patient. Whereas symptoms used to appear mysterious and far in the body, you'll now be able to analyze fascial limitations and find the underlying obstacles to relieve the tension and discomfort that eventually hinders function and activity.

With basic biomechanical assessments, differentiate between myofascial pain and fibromyalgia and detect any motion limits. In only two days, you may release painful trigger points and tension, enhance circulation, increase flexibility, and restore alignment for documentable functional effects.

This rigorous training distinguishes you as a highly trained and talented soft tissue practitioner. You'll be acknowledged for your advanced soft-tissue mobilization talents, making your practice more desirable and producing outcomes that people are willing to pay for.

Handouts

Intensive Myofascial Release Training Manual (27 MB)

Outline 158 Pages Available After Purchase

FASCIA ANATOMY AND FUNCTION IN NORMAL AND PATHOLOGICAL CONDITIONS

What Does the Tissue 3-D Matrix Tell Us About the Body?

WHAT DOES THE RESEARCH SAY?

Facial Mobilization Evidence, Trigger Points, and More
When to use your hands vs. an instrument for release

FASCIAL IMPAIRMENT DIFFERENTIAL DIAGNOSIS

How to Tell the Difference Between Myofascial Pain and Fibromyalgia
Improve your problem-solving abilities by dealing with difficult limitations.
Determine myofascial trigger sites.
Documentation that is objective

MYOFASCIAL RELEASE PRINCIPLES AND PROCEDURES

How to Work on the Fascia Correctly and Efficiently

DOCUMENTATION FOR FUNCTIONAL RESULT

What Insurance Companies Want in Order to Be Fully Reimbursed

Practical Lab

USE POSTURE, PALPATION, AND MOTION TESTING TO DETERMINE MOBILITY IMPAIRMENTS

Soft Tissue Mobilization Evaluation: How to Listen to What Your Body Is Saying
Myofascial assessment
Discover how to palpate and evaluate fascial mobility.
Listening to fascial tension patterns on a global and local scale
Techniques for Reducing Pain and Improving Functional Mobility
Gliding of the skin
Cupping\sRolling
Triplanar discharge
More Mobilization Techniques include the use of negative pressure instruments and cupping treatment.
Releases using both hands for the spine and other extremities
Myofascial Release Techniques
Friction in a circle
Elbowing
Knuckling
Thumb and circular finger release
Longitudinal stroking of muscles
Z-friction removal
Techniques for Myofascial Distraction
Distractions with the arms and legs
PNF
How to Apply Myofascial Release to Specific Body Areas
The diaphragm of the respiratory system
Iliopsoas
Diaphragms of the transverse fascia
IASTM stands for instrument-assisted soft tissue mobilization, and myofascial release instruments include cups, foam rollers, balls, and other implements.
Faculty of Clinical Problem-Solving for Case Studies and Discussion
PT, DPT, MS, OCS, LMT, CEAS Theresa A. Schmidt 10 related lectures and goods

Dr. Theresa A. Schmidt is the President of Educise PC, which provides continuing education and physical therapy in Dartmouth-Sunapee, New Hampshire. With over 30 years of clinical practice and education experience, she integrates best evidence-based practices of manual therapy and orthopedic rehab with complementary medicine approaches for outstanding peak performance. She is a board-certified Specialist in Orthopedic Physical Therapy, Expert Witness, massage therapist, and coach. She got Highest Honors from Long Island University's Masters Physical Therapy Program and her Doctorate in Physical Therapy from the University of New England. She taught at Touro College Physical Therapy Programs, Nassau Community College, and CUNY Queens College in New York. Dr. Schmidt has given presentations at the International Fascia Research Congress, the American Physical, Occupational, and Massage Therapy Associations, NASA Inomedic Health, Johns Hopkins, Cleveland Clinic, and other medical institutes around North America. She is an author, Reiki Master Instructor, and integrative medicine practitioner. More information is available at www.Educise.com.

Disclosures for Speakers:

Theresa Schmidt is a lawyer with a private practice. PESI, Inc. pays her a speaking honorarium.

Theresa Schmidt does not have any relevant non-financial relationships to declare.
---